Laws of Nature
While not all may recall Newton's Laws of Motion, many no doubt remember the maxim
for every action there is an equal and opposite reaction
. However, the corollary to that maxim was something that I had forgotten (I think it's called repressed memory) until camping last week. The corollary? The CJs are camping; therefore it is raining. Yes, a truly waterlogged week was had by all and while Mr. CJ and I tried not to let the weather dampen (ouch) our spirits, our canine companions actually seemed to revel in the rain (at least for the first 3 or 4 days after which they started spending increasing amounts of time on their beds under the picnic table 'shelter').
As Mr. CJ does the wildland firefighting thing, it necessitates that any camping or vacationing we do has to take place outside of the May to October time-frame during which he has to remain
on call
. The advantages to camping early in the season are having an entire Forest Service campground, in the Hells Canyon Recreation Area, to yourselves. In addition, although the campgrounds are open they are not maintained (no water available) this time of year, so there are no 'site fees'. A third bonus was that the USFS had just built a new outhouse facility in this campground ... priceless. The disadvantage is that, well, it rained a lot and even when not actually raining the weather for the most part was like this:
Still and all it was good to get away and we were, for the most-part, well-prepared (we ended up one tarp shy when after five nights of rain it apparently exceeded the repellent capability of the seams of our rainfly - but we had a large garbage bag that we [or rather Mr. CJ bless his soul] placed into service at about 2 am that morning to stop the 'water torture' that awakened us). Having to put up and take down our tent in the rain made me ever so thankful for shock-corded aluminum tent poles (although we don't have the latest version where you basically toss your tent on the ground and voila) and I was surprised that they hadn't made the list of the
top 100 inventions
of the last century.
As we hiked, looked and just listened, it occured to me the difference between those who wish to protect the environment and those who could care less or view it as merely a resource to be exploited. The latter believe there is nothing 'bigger' or more important than themselves while the rest of us look at the power/energy,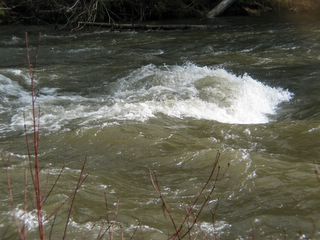 the towering majesty
and the extraordinary beauty
that surrounds us and are humbled, dwarfed in our relative significance, stifled in our awe. We not only savor the experience but wish to protect it so that our children's children can know the exhilaration of swirling their feet in a clear, cold mountain stream, the solitude in the
white noise
of the water, wind, flora and fauna that allows for reflection, renewal or merely retreat, the wonder of discovery -whether a
rare find
, common deer sharing your campground (or rather you sharing theirs) or the story of generations played out on a forest's floor.
Yeah, it rained - so what. No
rare find
s for us this trip and while we had several
visitors
in camp the only time I had the opportunity to take a picture (as 'hell dog' was asleep and not available to keep them at bay) was when Mr. CJ and I were sitting in the cold and damp alongside our campfire and a 'couple' wandered in to say hello. Unfortunately, I had a flask in one hand (artificial liquid warmth), a book in the other (Richard Dawkin's
The Blind Watchmaker
) - and my camera was in the truck.
As far as fauna, though there were many of
these guys
, I refused, on principle, to take their picture. The principle? That at first glance, these posers have me thinking that I've caught glimpse of
one of these
- it's unfair for them to take advantage of my age-affected eyesight and poor identification skills. At least I always figure it out before I waste film - oh wait, it's a digital camera. Anyway, although I didn't have an appropriate lens on, I did catch this guy outside the Hells Canyon Interpretive Center:
All in all, it was quite the religious experience:
Tell me you don't see the
Virgin Mary
in that tree trunk. If you don't believe me, believe your own lyin' eyes. Go to 45 degrees, 6 minutes, 47.7 seconds north; 116 degrees, 58 minutes and 36.9 seconds west and check it out for yourselves. It'll be somewhere within 43 feet of that location (according to Mr. CJ's GPS.) Well, that's it for this installment of how I spent my
Summer
Spring vacation.